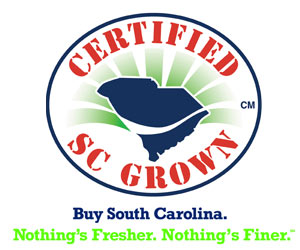 Check out this amazing recipe from Brian Dukes of The Blue Marlin in Columbia, SC. We are getting our grouper from Mark Marhefka of Abundant Seafood in Charleston.  He catches it and brings it to us whole, the best fish I have seen in Columbia! Maque Choux is a classic cajun accompaniment for seafood, chicken or pork, made with corn, sweet onions, green peppers and we threw in some tasso ham.
For the grouper:
6 oz. Grouper Fillet
salt and pepper to taste
fennel pollen, pinch
1/2 oz butter
Get a heavy skillet hot, use medium heat.  Season the fish, place the butter in the pan, make sure it is sizzling before you place your fish in the pan.  Make sure to use medium heat so the butter does not burn.  Sear on the flesh side for 3 minutes or until golden brown, turn the fillet over, turn the heat down to low and finish cooking for 3 minutes until the fish is firm and the center is moist.
For the maque choux:
1 ear of corn, steamed and kernels removed
1/2 sweet onion diced, Palmetto sweet if you can get one
1/2 green pepper diced
1 oz tasso ham, shredded
1 clove garlic, minced
1 tsp. flat leaf parsley, chopped
salt and pepper to taste
For the butter sauce:
4 oz white wine
juice and zest of lemon
1 garlic clove halved
1 oz heavy cream
2 oz butter, soft cut into cubes
In a non reactive pan reduce the wine to 1 oz, add cream and reduce until the liquid is thick and reduced by half, turn off the heat and whisk in the butter slowly.  Season with salt and pepper and serve immediately over the fish.  Can be made ahead of time and reserved, keep warm.
Plate the maque choux on the plate, place the fish on top, add more maque choux, drizzle with butter sauce and garnish with City Roots Farm micro Arugula.