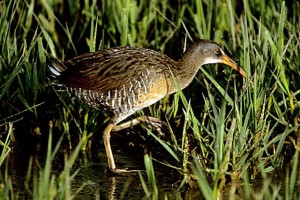 We've got more bird hunting this week as Bob ventures out on his first coastal marsh hen hunt off the South Carolina coast.
Captain Tommy Scarborough with Georgetown Coastal Adventures is back with Bob.
In the past we've seen Bob and Tommy catching many different kinds of  fish and now you'll get to see how they do on hunting marsh hens. Tune in to see what Bob and Tommy are up to this week on Bob Redfern's Outdoor Magazine!
Fun Fact: Although this species is a constant resident, and extremely abundant along the salt-marshes and reedy sea islands of South Carolina, Georgia, Florida, Alabama, and Louisiana, to the mouths of the Mississippi, and probably farther south, at all seasons of the year, it leaves these districts in considerable numbers in spring, and extends its movements along the Atlantic shores as far as the Middle States. [Source]