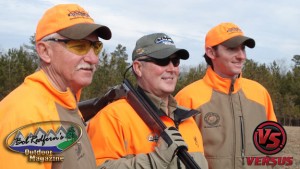 Bob is hunting quail this week at Buchanan Shoals near Wadesboro, North Carolina. Buchanan Shoals is a hunter's paradise for those folks that like to quail hunt, fish and hunt for wild hogs. Bob's host and wingman this week is Jason Kiker, the owner and developer of the 5500 acre hunting resort property. This is a show you will not want to miss!
Buchanan Shoals occupies 5,300 acres in southern Anson and Richmond Counties, NC as well as Chesterfield County, SC.  The property is located on the Great Pee Dee River, with over 7 miles of frontage on the river.
Buchanan Shoals is a collage of pine uplands, young pine plantations, upland hardwood glades, bottomland hardwood forests, and open broomstraw fields.  These distinctive habitat conditions offer hunting for all major wildlife species in the south including:  waterfowl, trophy whitetail deer, turkey, quail, and dove.