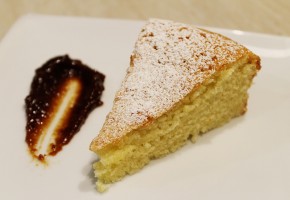 Check out this wonderful recipe for Olive Oil Cake from Chef Ben Ellsworth of Mercato.
1 cup fresh Orange Juice
1 tsp fine salt
3 eggs room temp
1 ¼ cup whole milk
2 cups sugar
¼ cup Grand Marnier
1 ½ cup EVOO
1 tbsp lemon zest
2 tsp rosemary fine chop
2 cups all purpose flour
½ tsp baking soda
½ tsp baking powder
1. Reduce OJ to ¼ cup, add salt and stir
2. Beat eggs until frothy, add milk, sugar, Grand Marnier, EVOO, OJ, zest and rosemary. Mix for 1 min until smooth. Mix in flour, baking powder, baking soda and blend until smooth.
3. Pour in hotel pan. Bake at 350 degrees for one hour.
Yields 2 10" round cake pans.