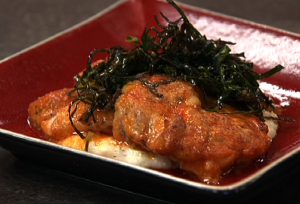 This week we've got one heck of a recipe from Brandon Velie of Juniper Restaurant in Ridge Spring, SC.
Buffalo Manchester Farms Quail Breast Medallions
with Creamy Adluh Grits &
Walter P. Rawl Farms Flash Fried Collards
(4 servings)

8 Quail Breast Medallions
½ cup seasoned flour (salt, pepper, gran. garlic)
4 tablespoons butter
3 tablespoons Texas Pete Hot Sauce
1 tablespoon fresh chopped parsley
Heat butter in skillet. Dip quail into flour and place in hot skillet. Let quail cook about 3 minutes. When ready to turn quail pour hot sauce in pan, let cook about 45 seconds, add parsley. Turn Quail and move around in pan to incorporate sauce. Saute for about 2 more minutes. Transfer to plate and serve over grits.
For the grits:
2 cups whole milk
½ cup white stone ground Adluh grits
1/3 pound of unsalted butter
1 tablespoon chicken base
salt and pepper to taste
Heat milk and butter over medium flame in a sauce pot. Once butter is melted add grits stirring well for the first 4 minutes. Turn down flame and continue cooking for approx. 40 minutes ,stirring often. Add chicken base about ½ way through cooking. Salt and pepper to taste. Cook until soft grit.
For the Flash Fried Collards:
5 large collard leaves, washed & center stem removed
2 tablespoon butter
1 tablespoon red wine vinegar
Salt & Pepper to taste
Roll collard leaves tightly and cut into a chiffonade (thin hairlike pieces). Heat butter in skillet over medium- high heat then add collards and saute for approx. 2 minutes moving frequently in pan. Add vinegar and salt and pepper and saute for 1 more minute, collards should start to crisp up. Serve over quail.