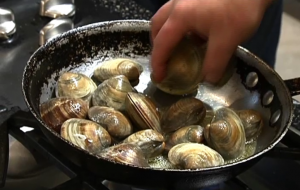 South Carolina Clams Recipe
Sambuca, Bacon, Tomato, Butter
15 clams (fresh with closed shell, if open knock on table to see if it will shut. If it doesn't discard)
3oz unsalted butter (room temp)
2 oz of Sambuca (white)
2 oz white cooking wine
4 tbl of cooked bacon (don¡¯t skimp buy the good thick stuff if you can't cure and smoke it in house)
1 cup peeled, cored, and sliced tomatoes
Pinch of fresh chopped parsley
Place clams in the pan with warm butter. Put on medium heat and cover until the clams start to open.
In a bowl place clams that are open and cooked and set aside to prevent them from over cooking.
Once they start opening add sambuca, bacon, and wine and re-cover until all are open.
When all are open add the other cooked clams, tomatoes, and parsley and bring up to simmer. (until all are hot enough to eat)
Taste liquor in pan and add water is it's too salty.
Cover until ready to eat.
Lemon and bread are great additions.