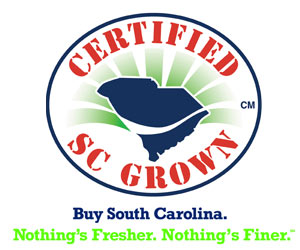 Thanks to Chef Brandon Velie and all of the great folks at Juniper on 640 East Main Street in Ridge Spring SC!! Check out this amazing South Carolina Peach Semifreddo with Pecan Praline and Gingersnap Crust features Titan Farms Peaches and Nuthouse Pecans. Makes 8 servings and it's delicious!!
The Crust:
1 1/4 cups finely ground gingersnap cookies
1/2 stick unsalted butter, melted
Preheat oven to 350 degrees. Invert bottom of springform pan, then lock in place and lightly oil pan. Stir ground gingersnaps and melted butter in a bowl until combined. Place in pan and spread evenly over bottom and up sides of pan. Bake until crust is firm, about 10 minutes. Cool completely for at least 30 minutes. Leave oven on.
Pecan Pralines:
1/4 cup coarsely chopped pecans
1/4 cup granulated sugar
Toast pecans, spread out on a baking sheet, in over for about 10 minutes, place in bowl and lightly oil baking sheet. Cook sugar in skillet over medium heat stirring with a wooden spoon often to allow sugar to heat evenly. Once it starts to melt stop stiffing and allow to cook to a light amber, occasionally swirling sugar in pan to keep even cooking. Immediately stir in pecans and allow to cooke for 1 more minute, then transfer to oiled baking sheet. Let praline cool and harden about 15 minutes. Break praline into pieces and finely chop.
Semifreddo:
3 Firm, ripe peaches, peeled, pitted and coarsely chopped
1/2 cup granulated sugar
1/8 teaspoon kosher salt
2 tablespoons powdered sugar
6 large egg yolks
1/2 teaspoon pure vanilla extract
1 cup heavy cream
Mix peaches in a metal mixing bowl with 1/2 cup sugar, add salt. Stir in egg yolks and place over a sauce pan of barely simmering water and beat mixture until it is thick and pale in color and registers 140 degrees on an instant read thermometer, then beat for 3 minutes more, but do not let mixture boil. Remove from sauce pan and place in larger bowl of ice and water. add vanilla and mix until cold for about 8 minutes. In a separate bowl, whip cream and powered sugar until it forms soft peaks. Fold 1/3 of cream into the peach mixture, then fold in 1/2 of the pecan praline and remaining cream gently but thoroughly. Pour into crust, cover with plastic wrap and freeze until firm for at least 3 hours. This can be made and frozen up to 4 days ahead of time.
Peach Topping
2 Firm, Ripe peaches, peeled, pitted and sliced
Granulated sugar to taste, if needed
If needed toss peaches with sugar and let stand for about 10 minutes until sugar is disolved. Spoon peaches over semifreddo before serving.
Cut semifreddo into at least 8 slices and serve with some of the extra pecan praline sprinkled over the top.